Our dynamic, aggressive team, backed by years of solid experience in commercial, institutional, single family, and multi-family residential projects, is ready to serve you.
From our skilled tradesmen to our project management staff to our award winning customer service department, each team member works closely together to provide creative, cost-effective solutions to customer needs. This team concept, which is the driving force behind our operating philosophy, assures you of receiving the highest quality finished product, on-time and within budget.
To further ensure the superior workmanship for which Wal-Tec has become known, we use only the best brand names - including USG, National Gypsum and Georgia Pacific.
Wal-Tec's tradition of value-engineering excellence, backed by years of stability, makes it the Interiors Company of choice in the greater Metro Detroit area.
So, if you're serious about innovative yet cost-effective ceilings, drywall, or partitions, contact us today.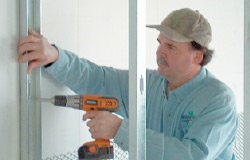 We have a system that's right for you!
Production Drywall Installation
Finish Lower Levels, including:

Metal Frame
Acoustic Ceilings

Custom Drywall Installation
Full-service Painting
Metal Frame
Acoustic Ceilings
Acoustic Spray-on Texture
Sound Wall Systems
Suspended Drywall Ceilings
Builders "Demountable" Model Garage Construction System
Model Garage Program
Hand-Texturing
Radius Walls
Radius Cornerbeads
We can even provide General Contract services!